I'm a little excited, but first...
I'm sure you have noticed how popular crocheted items on LO's are becoming. I just love them, so thought I'd try my hand and making some seeing as my passion before I discovered paper was crochet.
I just loved how it all turned out. Here are some examples of my motifs and flowers on some of my LO's.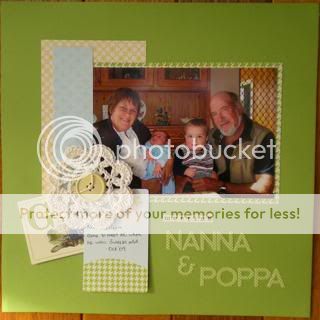 A couple of gorgeous ladies at Challenge Heaven approached me after seeing the above LO and asked it they would be able to buy some off of me. So while I was a little nervous I jumped right on in. The girls have been really happy with them so I have decided to start to sell them more.
What better way than the get my name and work out there than to have a GIVEAWAY!
Here's a bit of a sample of what I have on offer atm.
My followers are sitting at 31! WooHoo! Didn't think I'd have more than a handful really, so why not bump that up a little.
When I get to 50 FOLLOWERS I will post a pic of my GIVEAWAY CROCHETED FLOWERS & MOTIFS. Will post the details then.
So how about it girls? Do you think you can get me to 50? Promote me through the usual channels and hopefully we'll have a GIVEAWAY up for grabs very soon!
TFL!
Becci
xoxo