So sorry for not blogging much lately. I've been very busy scrapping and hooking up items for my up coming blog sale, more on that in another post though.
Now where to start. Well I'll just start with the first pic in my gallery.
I think I'll start with some LO from last months
CyberCrop
at
Scrapbooking Top 50 Australia
.
I have used Kaisers Military pp's and alphas. I have also included a couple of Randalls old Lance Corporal badges as embellies behind the pic.
I have used Bo Bunny's Block Party range. One of my very faves atm.
Block Party again here too.
Now for this months
CyberCrop
at
SBT50
.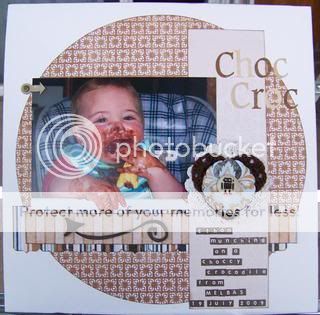 I have used lots of Kasiers Le Chateau pp's, Making memories title alphas, Kaisers mini alphas for my journalling. Scrapware and Buzz & Bloom chippie bits. My own crocheted flowers topped with a Purple Pumpkin robot button.
Thought this embelly was a little cute. Used a short piece of ribbon from Purple Pumpkin, topped with a ticket I received in the
Scrap The Boys
Kraft swap last month, added a Purple Pumpkin denium button. Broke the pics off of a Block Party brand and glued it all together.
Block Party here again, with a little bit of Sass Lass thrown in for good measure. A little bit more Purple Pumpkin too.
My card for the
Opening Night Mini Challenge
My card for the Opening Night Challenge.
Next up is my entry for
Scraphappy Kats
monthly challenge. This month was my first month taking part in this challenge. We were given a pack of goodies and had to use it to creat a LO. This time we were only allowed to use what came in the pack, nothing else, well other than adhesives and pics. No inking the edges, no other alphas, nothing!
Oh here's another LO for
SBT50
. This is my take on one of last months challenges.
I have used Kasiers Jungle Bugs range here again. So love this range.
Well I think that's it for now.
TFL!
Take Care
Becci xoxo